Intranets have been failing for years. In many ways, the industry has evolved and re-created itself, yet many of the same challenges from 25 years ago persist today.
We conducted an extensive research project to gain insight into why intranets fail. This research provides Simpplr, as a solution provider, a deeper understanding of the most pressing issues and challenges surrounding intranets, so we can better focus our product roadmap and service offerings on priorities that matter. For customers and practitioners, the research can serve as a maturity framework and can help companies self-assess their intranet program's risk of failure and identify blind spots.
Our approach
We started the research in conjunction with our State of the Intranet 2018 survey. Every year Simpplr conducts a benchmarking survey titled the State of the Intranet. The 2019 version will be available shortly. For the "Why Intranets Fail" research, we first asked nearly a thousand intranet practitioners an open-ended question about why intranets fail. Using the responses, we clustered the most prevalent topics into the top 10 reasons why intranets fail. We also interviewed several practitioners on each topic to better understand the context. From there, to truly understand the key drivers of intranet failures, we reconciled the 10 reasons with both our internal churn and CRM notes for technology replacement initiatives. Finally, after six months of initial research, we conducted a more refined survey.
Our findings
Our research led to surprising insights that weren't clear to us at the onset: First, intranet practitioners, generally speaking, are more likely to note functional challenges as a primary reason for intranet failure. And yes, bad UI, search, and content management can kill an intranet.
What practitioners generally believe kills intranets: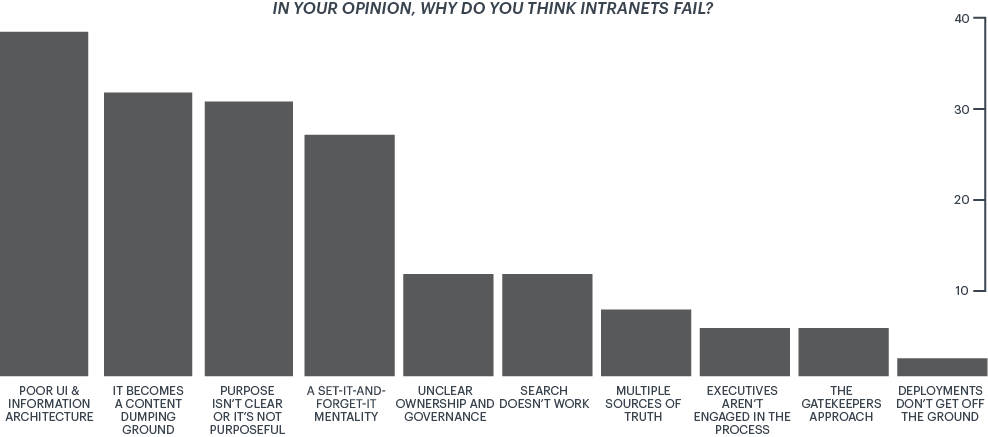 The biggest surprise for us was how the key drivers and ultimate causes of failure more often than not were rooted in not having a clearly defined purpose, poor governance, and lack of executive engagement.
What actually makes intranets fail:
So at a high-level, what do each of these mean?
57% of practitioners we surveyed do not know their internet's purpose. That's bad.
Unclear ownership and governance
Governance describes how cross-functional teams manage decision processes, ownership, and accountability on an ongoing basis. If you don't have good cross-functional alignment and ongoing support, you're fighting an uphill battle.
Executives are unengaged in the process
Executive 'buy-in' is not enough. Believe it or not, less than 34% of executives communicate vision and strategy more frequently than once a quarter. For intranets to succeed, executives need to continuously beat the drum.
Poor user experience
If you have to train people your intranet already failed. This shouldn't require a second thought.
Have you searched for a file on your intranet and found a document from 2004? This is not only frustrating but outdated content will inundate your intranet, turning it into a content dumping ground.
If you work in the San Francisco office, you shouldn't see a lunch menu for the London office. Information that is irrelevant to an employee's profile or location weakens the organization's ability to truly connect and align the workforce.
(Mis)Information is spread all over the place. In our survey, respondents from 16 percent of organizations cited having multiple sources of truth as a contributing factor to an intranet failure.
In the old days, organizations were dependent on a single SharePoint administrator. Technology has made intranets today much easier to manage and distribute ownership so it doesn't get bottlenecked.
Search doesn't work
Imagine if Google didn't return your search queries as expected. You'd stop using it. This shouldn't be any different on your intranet.
Too many organizations try to reinvent the wheel. Research shows that quite frequently, deployments aren't successful. According to 2018 research by Nielsen Norman, the average time for organizations to build and deploy an intranet was 1.2 years.
These are among the top reasons why intranets fail based on our research. Our hope is that our research initiative will help bring attention to the prevailing intranet failures and ultimately help practitioners understand what it takes to launch and sustain a successful intranet.
To view the full results, Simpplr Research has published both an infographic and a longer form whitepaper you can download.
About Simpplr Research
Simpplr Research was created in 2018 to provide customers and Intranet practitioners insights and benchmarks to get the most out of their internal communications programs. With a rigid, analytical approach we hope to use data and insights to guide the corporate intranet industry and Simpplr's solution strategy. To learn more or to suggest research topics contact us at hello@simpplr.com.