When
Simpplr Research surveyed intranet practitioners at large and those who have experienced an employee intranet failure
, poor user experience and information architecture was listed as the primary reason for failure. It was a contributing factor to nearly a quarter of failed intranets!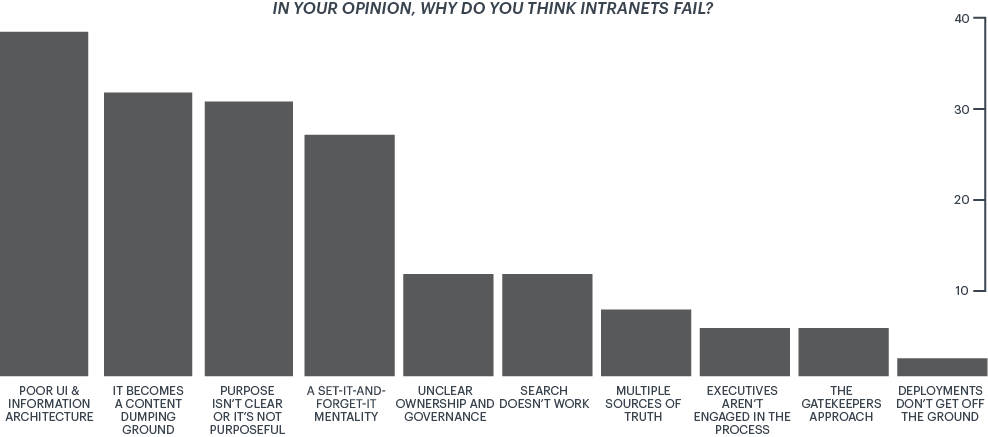 User experience matters in intranets!
A bad user experience can make or break your intranet. To put it into perspective, something is visually enticing doesn't necessarily mean the usability is effective. Let's say you're looking to buy a pair of gray shoes from an online website. You're captivated by the design, interactions, and shoe selection. You have a specific style and size in mind, so you look to use the filter to help you with your selection -- but there is no filter and now you're forced to browse through 50 pages of shoe results. What would you do next? You would probably abandon the website and search elsewhere. The same user experience methodology goes for an intranet.
Intranet industry challenge
The importance of user experience appears to be well-known among intranet practitioners, but it's still a primary challenge in the industry today.
Shown: Simpplr's modern user interface does not require extensive employee training 
If employees need to be trained to use the intranet, you've already lost
The user interface of your intranet is conceivably one of the most complex elements in design and development. The days of an instruction manual are long gone. Products need to be intuitive upon initial use because users have a low tolerance for complexity. Nobody trained us on how to use Google, Facebook, and LinkedIn. Enterprise software should be held to the same standard, especially if it is meant to be adopted across the workforce.
According to emarketer.com, research shows that 88 percent of consumers are less likely to return to a site after a bad experience, and 70 percent of projects fail due to lack of user acceptance.
Modern intranets have recognized this and leverage consumer-app principles so you don't have to spend time and resources to train employees. If you're rolling out a product that needs to be used by every employee and scheduling mandatory training in how to use it, you've already failed. Going back to the
build vs. buy your intranet discussion
, many builders and those who customize a platform technology like SharePoint are not inherently user experience experts, and they fail to appreciate the importance of usability.
Intranet managers need to relearn the purpose of site structures
User product behavior research consistently reveals that users prefer to find information either: 1) through search or 2) prescribed to them on their homepage. Users generally do not have the wherewithal to click through and explore most intranet content. On occasion, intranet sites are the best way for users to consume information. Examples include an employee onboarding site with a series of steps to bring new hires up to speed and affinity sites for distributed employees to connect on a topic of interest.
Typically, users will go to most sites (for example, a human resources site) only if they were driven there or if their search efforts failed. This doesn't mean the organizational aspect isn't worthwhile. Again, many intranets fail because of content versioning, fluff, and outdated information. The exercise of organizing the knowledge management structures on most sites should be seen as a process for administrators.
Here are some helpful ideas on how to lay out your intranet that will help employees:
Include an employee onboarding site with a series of steps to bring new hires up to speed

Create affinity sites for (distributed) employees to connect on a topic of interest

Create sites for each department to manage their own content and make it purposeful (ie., the top five most important documents)

Make document titles easily searchable
Here at Simpplr, we pride ourselves in our stunning intranet user experience. If you'd like to take a look at how we've incorporated user interface and information architecture to make the world's easiest employee intranet, check out our 10-minute demo video here: